Virtual Programs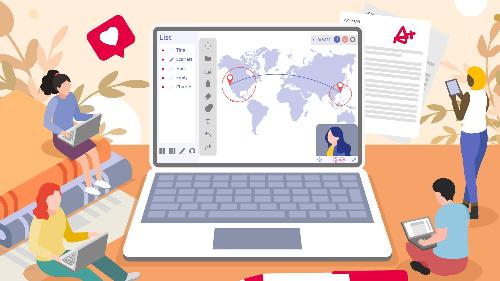 Virtual programs are accessible and can be quite affordable, allowing students to explore globally from the comfort of their homes. While there is no substitute for an in-country experience, virtual internships and classes offer a way to:
explore another culture
get unique internship experience
take courses not offered at VCU
gain invaluable intercultural, professional and academic skills
Beginning September 1, 2021, when you begin your registration with VCU, you will be prompted to pay the $250 Education Abroad non-refundable fee that is required for applicants to all education abroad programs.
Please do not pay this fee until you have been accepted into your program and are sure you will participate.
Funding opportunities for virtual programs:
Students are eligible to use financial aid towards the cost of virtual classes and internships so long as the credits will be applied towards their VCU degree. Work closely with your VCU Academic Adviser and Education Abroad Adviser to
approve virtual global class or internship credits for transfer back to VCU
. Non-credit bearing virtual study/intern abroad programs are not eligible for financial aid.
The Baldacci, Buerlein, Gilman, and Presidential International Education Award scholarships are all applicable to virtual programs. Individual program providers may also have scholarship offerings. Please visit our Funding page
here
for more information about these scholarships and how to apply.
Check out this article highlighting a VCU students summer virtual internship experience!
You can add a virtual internship or course(s) to what you're already planning to take at VCU.
Connect with an
Education Abroad Adviser
to learn more!
Virtual Internships
Areas of Study
Terms Available
API
3-6 credits
Computer Science, Information Technology, Website Development, Health, Human Rights, International Development, Sports Marketing, Graphic Design, Photography, Film/Video Editing, Accounting, Business, Advertising, Communications & Journalism, Education
Semester, Summer
Campus B
(Brazil)
Engineering, Computer & IT, Communication, Business
Semester
CAPA
3-6 credits
Advertising, Business, Communications, Education, Finance, Game Design, Graphic Design, Healthcare, Life Sciences, Interior Design, IT & Computer Systems, Marketing, Sports Management, Video Animation, Web Design
Semester, Summer
CIEE
6 credits
Arts, Business, Communications, Data Analytics, Design, Digital Health, Engineering, Entrepreneurship, IT & Computer Science, Marketing, Media/Film/Photography, NGOs, Social Media, Sustainability & Environment
Semester, Summer
CIS Abroad
3 credits
Architecture, Art & Design, Biology & Ecology, Business & Economics, Education, Engineering, Entrepreneurship, Environmental & Sustainability, Fashion, Finance, Government & Politics, Health, Hospitality Tourism & Event Planning, IT & Computer Systems, Journalism & Media, Marking Advertising & PR, NGOs and Non-Profits, Performing Arts, Sports & Exercise Science, Social Work
Semester, Summer
Global Learning Collective
Team-based consulting projects developing solutions related to UN Sustainable Development Goals (SDGs)
Semester
ISA
3-6 credits
Marketing, Communications, Business, Finance, Software Engineering, Computer Science, Tourism, Fashion, Education, Pre-Law, Engineering
Semester, Summer
SIT Study Abroad
4 credits
Women's Rights & Resilience in Conflict Situations, Education & Social Change, Environment/Conservation & Ecosystems, Environment/Development & Sustainability, Public Health in the Tropics, Finance or Social Entrepreneurship, Sexuality Gender & NGOs, Diplomacy/Conflict Resolution & International Relations, Development & Gender
Semester, Summer
University of Nicosia (Cyprus)
3 credits
Communications, Computer Science, Institute for the Future, Life & Health Sciences, Science & Engineering, Management & MIS, Politics & Governance
Semester, Summer
USAC
3 credits
Business, Digital Marketing, Engineering, Translation, NGO/Social Services, English-Language Instruction, Journalism & Communications, Grant-Writing, Research, Health & Wellness, Computer Science, Graphic Design, Human Resources
Semester, Summer
Virtual Internships
3 credits
Business, Computer Science & IT, Engineering, Fashion, Creative Design, Finance, Sustainability, Health & Wellness, Hospitality, Legal, Marketing, Supply Chain, Media & Communications, Human Resources, Urban Planning & Architecture
Year round 1-4 month options
Virtual
Classes
Areas of Study
Terms Available
CLS Spark
Nationally competitive U.S. Department of State funded program for Arabic, Chinese, or Russian. In 2022-2023 academic year, will be offered with ~18 hours/month of virtual instruction + cultural activities. Applications open in April 2022 with a deadline of May 26, 2022.
Academic Year 2022-2023
Arcos Learning Abroad
3 credits
Spanish Language, History, Culture, Literature, Spanish for Health Professions
Semester,
Summer,
Winter Break
Curtin University (Australia)
Many Options
Semester
FU-Best (Germany)
6 credits
German Language, European & German History, Politics, Economics, Art
(note, all classes offered 9-11am Central European Time)
Semester,
Summer
International School for Jain Studies (India)
3 credits
Religious Studies, International Studies, Philosophy
Winter Break
Philipps Universität
Marburg
(Germany)
3 credits
German Language & Climate Change
Winter Break
Pusan National University
(Korea)
2 credits
Korean Language & Culture (note, classes will be at 4am)
Winter Break,
Summer
SIT Study Abroad
3 credits
Language & Culture Learning: Hindi, Arabic, Swahili, Tibetan, Nepali
Semester, Summer
University of Nicosia
(Cyprus)
5 credits
Global Health, Medical Terminology
Summer
Hybrid Programs
Terms Available
Future Nobel Laureate Scholarship Program
(Sweden)
Online Courses Fall 2022 + Travel to Sweden December 5-11, 2022 (Please note that this program includes travel to Sweden that occurs during the last week of VCU's fall semester. If you are selected for this experience, it is at the discretion of your VCU instructors to grant an approved absence and you must communicate with them to seek such approval.)