Featured External Programs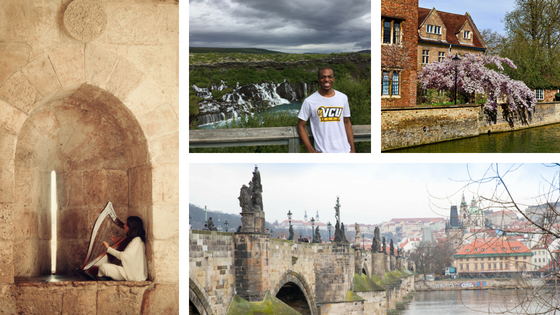 In addition to
VCU Summer Programs
, you are encouraged to explore programs through third-party organizations, other U.S. institutions, or by applying directly to a foreign university. These programs offer a greater range of destinations and coursework than VCU's summer programs.
We recommend that you start with the programs below, although you are not limited to these options! Consult our
program search tool
and your
Education Abroad Advisor
if you want to see what else is out there.
| | Location | Area of Study |
| --- | --- | --- |
| CIS: Universidad Veritas | San José, Costa Rica | Biology, Environmental Studies, Latin American Studies, Pre-Health, Political Science, Spanish. |
| USAC: Czech Republic | Prague, Czech Republic | European Studies, Gender, Sexuality, and Women's Studies, History, Political Science. |
| Freie Universitat Berlin Summer Internship Program | Berlin, Germany | Internships available for most areas of study |
| USAC: Ghana | Accra, Ghana | African American Studies, English, Political Science, World Studies. |
| Hebrew University | Jerusalem, Israel | Anthropology, Arabic, Dance, Hebrew, History, Mass Communications, Middle Eastern Studies, Political Science, Religious Studies. (Contact Education Abroad Advisor prior to applying.) |
| Chung-Ang University | Seoul, South Korea | Business, Social Sciences, Politics, Korean Language and Culture (Contact Education Abroad Advisor prior to applying.) |
| API: Universidad Nebrija | Madrid, Spain | Art History, Business, European Studies, Spanish language and culture. |
| Universitat Pompeu Fabra International Summer School | Barcelona, Spain | Art and Culture,Economy and Innovation, Global Cities, Justice & Rights, Media & Social Dialogue, Methods & Data, Mind, Life & Environment, Practical Thinking, Social Analysis (Contact Education Abroad Advisor prior to applying.) |
| SINARC Arabic language and culture program | Beirut, Lebanon | Arabic language and culture at all levels |
| Internship in Barcelona | Barcelona, Spain | Internships available in Architecture, Art & Design, Business and Economics, Education, Engineering, Entrepreneurship, Environmental and Sustainability Studies, Film and Television, Finance, Government and Politics, Health, Hospitality, Tourism, and Event Planning, IT and Computer Systems, Journalism and Media, Marketing, Advertising, and PR, NGOs and Non-Profit, Performing Arts, Social Work, Sports and Exercise Science (Contact Education Abroad Advisor prior to applying.) |
| Internship in Costa Rica | San José, Costa Rica | Internships available in Business and Economics, Education, Environmental and Sustainability Studies, Health, Hospitality, Tourism, and Event Planning, Marketing, Advertising and PR, NGOs and Non-Profit, Performing Arts, and Social Work (Contact Education Abroad Advisor prior to applying.) |