Featured External Programs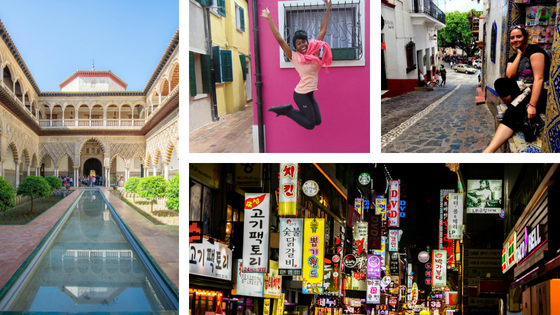 In addition to
VCU Semester Programs
and
ISEP
, students are encouraged to explore programs through third-party organizations, other U.S. institutions, or by applying directly to a foreign university. These programs offer a greater range of destinations and coursework that VCU's semester programs.
We recommend that you start with the programs below, although you are not limited to these options! Consult our
program search tool
and your
Education Abroad Advisor
to see what else is out there. External resources like
StudyAbroad101.com
or
GoAbroad.com
will have even more comprehensive listings of programs.
| | Location | Area of Study |
| --- | --- | --- |
| | Buenos Aires, Argentina | Economics, Latin American Studies, Spanish. |
| RMIT | Melbourne, Australia | Most majors. Suggested for Arts, Engineering, Sciences. (Contact Education Abroad Advisor prior to applying.) |
| CIS: Universidad Veritas | San José, Costa Rica | Biology, Environmental Studies, Latin American Studies, Pre-Health, Political Science, Spanish. |
| USAC: Czech Republic | Prague, Czech Republic | European Studies. |
| University of Bristol | Bristol, England | Most majors. (Contact Education Abroad Advisor prior to applying.) |
| USAC: London Metropolitan University | London, England | Most majors. Internships available. |
| Anglia Ruskin University | Cambridge, England | Most majors. Internships available. (Contact Education Abroad Advisor prior to applying.) |
| American Business School | Paris, France | Art History, Business, Communications, English, Fashion, French, History. (Contact Education Abroad Advisor prior to applying.) |
| Freie Universität Berlin | Berlin, Germany | European Studies, German, Political Science. (Contact Education Abroad Advisor prior to applying.) |
| USAC: University of Ghana | Accra, Ghana | Most majors. Internships available. |
| USAC: University College Cork | Cork, Ireland | Anthropology, Art History, Business, Engineering, English, European Studies, Performing Arts, Sciences. |
| Hebrew University | Jerusalem, Israel | Most majors. (Contact Education Abroad Advisor prior to applying.) |
| Lorenzo de' Medici Institute | Florence, Italy | Crafts and Materials (Jewelry), European Studies, Italian, Psychology, and Religious Studies. (Contact Education Abroad Advisor prior to applying.) |
| Massey University | Palmerston North, Auckland, or Wellington, New Zealand | Most majors. (Contact Education Abroad Advisor prior to applying.) |
| ISA: Universidad de Salamanca | Cusco, Peru | Anthropology, Latin American Studies, Political Science, Spanish. |
| Heriot-Watt University | Edinburgh or Scottish Borders, Scotland | Most majors. Suggested for Crafts and Materials, Fashion. (Contact Education Abroad Advisor prior to applying.) |
| USAC: Stellenbosch University | Stellenbosch, South Africa | Most majors. |
| Yonsei University | Seoul, South Korea | Most majors. (Contact Education Abroad Advisor prior to applying.) |
| SAI: Elisava | Barcelona, Spain | Communication Arts, Graphic Design. |
| SAI: Universitat Autònoma de Barcelona | Barcelona, Spain | Art History, Business, Economics, History, Political Science, Spanish. |
| API: Universidad Pablo de Olavide | Seville, Spain | Business, Economics, European Studies, History, Political Science, Psychology, Spanish. |
| USAC: Linnaeus University | Växjö or Kalmar, Sweden | Most majors. |
| CIS: Mahidol University | Bangkok, Thailand | Most majors. |
| KEI: American University of Ras Al Khaimah | Ras Al Khaimah, United Arab Emirates | Arabic Language and Islamic Studies, Business, Communications, Engineering, Sciences. (Contact Education Abroad Advisor prior to applying.) |