Money Considerations
Managing money is important to all students and their families who travel overseas. Review the following suggestions about handling financial affairs before and while studying abroad.
Prepare a budget and know what you can spend. Keep a daily expense account the first couple of weeks to plan a budget for your entire stay. Consider the cost of living in your location.
Prepare to spend more money on arrival than at any other point. You won't know where to find the best bargains and the currency exchange rate will take some getting used to.
Get a credit card (in your name) and know the credit limit. Photocopy the credit card and leave a copy with someone at home in case of loss or theft.
Have local currency on arrival as you get settled. Foreign currency may need to be ordered in advance. Remember that only commercial banks deal in foreign monetary transactions.
Call your bank and credit card companies to let them know you are traveling abroad.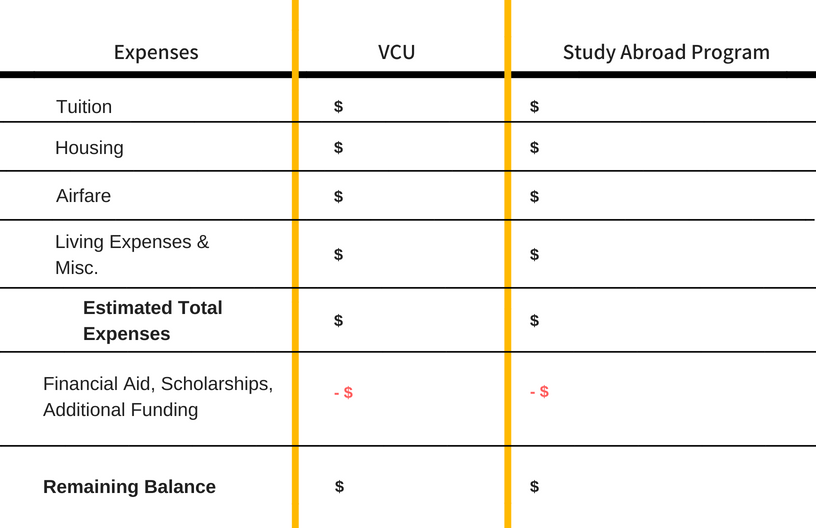 Setting a budget
The estimated expense figures, which should be supplied by your overseas program or exchange university, are for your use in structuring a budget and working out details regarding financial aid, where applicable. Expenses will vary depending on where you live — on campus, off campus, or with a family. As a student abroad you may be more socially active and wish to travel more than you would at home, resulting in additional expenses.
Be aware of changes in the value of the U.S. dollar. It is worth the time to follow and take advantage of the exchange rate. Consider installing an app on your phone.
Traveling with money
Taking money abroad can be confusing. Choosing the best way depends upon your access to a bank that deals with foreign currency and having a major credit card, as well as other considerations that may not be addressed here.
Once you are abroad you will want to establish some system for housing the money you have and any you might receive from home. The best arrangement may be both credit/debit cards and a bank account. Check with your program coordinator for specifics.
Here are a few suggestions for sending and receiving money abroad:
Wire transfer – U.S. banks wire money to foreign banks.
Bank draft – A check from your home bank is made out to your bank abroad.
American Express – Money is sent via the AMEX offices, where it is available for pick up. You don't have to be a cardholder to use the service.
International postal money order – You can purchase it at local banks and send it to your bank abroad.
*All of the above suggestions involve fees of some kind.
Debit cards and ATMs
Another way to send and receive money abroad is with a debit card. Parents or someone at home can make deposits locally into your account, and you can withdraw cash at ATMs around the world on a similar system (for example, Cirrus or Plus). Be sure to check foreign transaction fees ahead of time. You may be able to use these cards as credit cards. In this manner, you can use it anywhere credit cards are accepted and the money is taken from the account.
Power of Attorney
Consider if you would like to designate someone as your power of attorney while you are gone, so they can act as your legal representative. This may be helpful if you have financial issues that need to be taken care of while you are out of the country. VCU does not provide legal advice to students. Students may want to contact an attorney to determine whether and how to proceed in establishing a power of attorney.
Working abroad
Do not rely on employment while abroad for normal living expenses. You will be making adjustments to both a new academic system and a new social environment. Attempting to work while you do this will only place an added burden on your experience. Additionally, in most foreign countries, it is not legal for you to work.