Military Benefits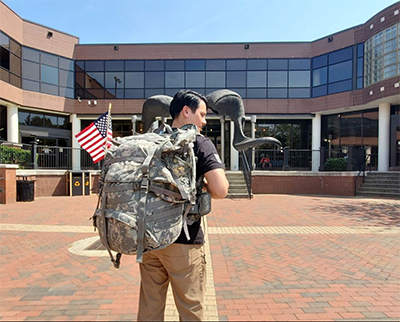 The VCU Education Abroad Office and VCU Military Student Services (MSS) office work in partnership to support students using military benefits to study abroad. We recognize this is a rewarding opportunity that is available and attainable for military benefited students. This information is to help make the process of using these benefits seamless and achievable.

The information on this page is interpreted as accurate by VCU's Education Abroad & VCU Military Student Services but that it is all contingent on the case-by-case approval of the U.S. Department of Veterans Affairs.

Read all information below thoroughly. Have questions? Email abroad@vcu.edu
Eligible Programs
VCU faculty-led programs that offer VCU credit and are billed by VCU are eligible for you to use your military benefits, including VMSDEP.

If you want to explore study abroad opportunities where you can use military benefits such as the GI Bill and Chapter 35/DEA (not including VMSDEP), look through the WEAMS list for other universities around the world that might be approved for military benefits. Please note that VCU will only be able to offer very limited support for helping you navigate the certifying official process at universities not listed above. VCU also cannot guarantee that universities on the WEAMS list have a designated certifying official available to facilitate this process.

Other program options could be through US institutions that offer overseas programming that are also willing to process your military benefits. Ask an Education Abroad Specialist to learn more.

Programs NOT Approved for Military Benefits
External Program Providers (such as, API, CEA, CIS Abroad, ISA, ISEP, SAI, USAC)

VCU summer, winter, spring-break Faculty Led Programs with transfer credit

VCU Exchange programs

Universities not on the WEAMS list

Universities where a certifying official cannot be designated
Next Steps & Forms
Read Military Benefits info on this VCU Education Abroad webpage

Check VCU faculty-led and/or the Weams list for WEAMS approved universities/programs

Schedule an Education Abroad advising appointment

Complete the VCU MSS Study Abroad form and submit to VCU MSS: https://militaryservices.vcu.edu/media/strategic-enrollment-management/military-services/docs/MSS1819-19%20VA%20Benefits%20Study%20Abroad%20Form%20090518.pdf

Work through the provided MSS - Study Abroad form checklist for your selected program (apply, etc.)

Stay in communication with your Education Abroad adviser

Have a fabulous experience studying abroad!
Resources
FAQ
What do I do if I can't find a certifier at a university?

Consider selecting a new university for study abroad, unless you don't want to use your Military Benefits. Just because a university is on the WEAMS list does not mean that they still have a certifier on campus to process your application and benefits.

What if a university is on the WEAMS list but not on VCU's recommended list, can I try to make that an option?

Absolutely - you can reach out to the university and try to connect with the VA certifier. Know that this will likely be a long process with no guarantee and limited support from VCU.

How far in advance should I start this process?

As soon as you know where you'd like to study abroad, start this process! You will have extra steps beyond students studying abroad who are not using VA Benefits. Don't procrastinate.

Can I study abroad and not use my Military Benefits?

Yes that is an option if you understand that you will not receive military tuition/living stipend benefits. Be sure to explore scholarship options for military benefit recipients.

Can I take credits abroad that aren't going towards my degree and still receive VA Benefits?

No, you can only receive these benefits if the credits you are taking abroad are going directly towards your degree at VCU.

How can VCU Education Abroad & VCU Military Student Services support me?

VCU Education Abroad will work with you through your entire study abroad process from the first steps in planning through your time abroad and return to VCU. We are here to answer questions, help get you started with research/networking, and to complete administrative tasks on your behalf. VCU Military Student Services will support you by helping you complete the

How do I know which VCU Faculty-Led Programs are eligible for me to use these VA Benefits for?

You can only use VA Benefits for a program where you will obtain VCU credits. VCU MSS will still need the detailed billing statement separating tuition from program fees and housing.