Black and Abroad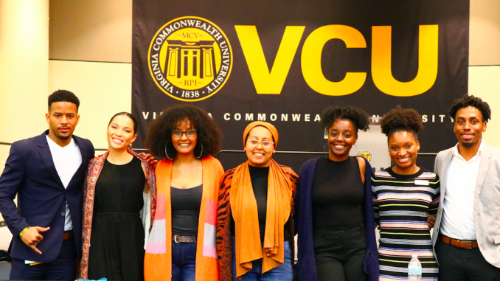 Storytelling from Study Abroad Students of Color
Each year, the VCU Global Education Office & the VCU Office of Multicultural Affairs sponsor Black and Abroad one evening during the Spring semester. This event is organized and hosted by VCU student study abroad returnees.
Black and Abroad is a storytelling discussion about the experiences of students of color who have studied abroad. The event highlights panelists sharing their experience preparing for and actually studying abroad, with a lens on identifying as students of color. After the panel discussion, all panelists and attendees continue the conversation over food together. Each year, one attendee is selected to receive a $500 award to participate in a future study abroad experience! This event is open to prospective study abroad students and anyone else in the greater VCU community that wants to hear the experiences of these students!
In 2021, VCU partnered with Bridgewater College, Hollins University, Randolph-Macon College and Shenandoah University to host a series of
Black+Abroad
. This virtual series aimed to curate a space for Black students to share their thoughts, questions, and reservations about travel (and study abroad) by engaging in conversation and storytelling with experienced travelers and study abroad alumni of color and education abroad advisers. More than 1,000 faculty/staff and students participated from around the United States in this engaging series.
Check out session recordings here!
In the News:
Below: watch Imani Thaniel share about her
experience leading VCU's 2019 Black and Abroad event.

*Please note: the $500 scholarship referenced is an award that has been offered in a
drawing at previous Black and Abroad events; information on future award opportunities
will be shared in subsequent event details and may vary from year to year.